Biography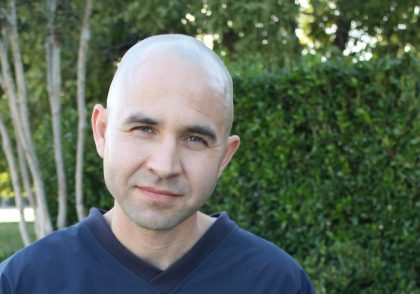 The Rev. Chris J. Antal is the called and settled minister of the
Unitarian Universalist Congregation at Rock Tavern, New York . He is a minister in Final Fellowship with the Unitarian Universalist Association, founding member of Veteran's For Peace Hudson Valley Chapter 177,  and a member of the Unitarian Universalist Peace Ministry Network Leadership Team.
Chris was born in New York in 1972 and raised together with his sister Jill by their parents, Richard and Susan, on the southern coast of Maine. He attended public schools and received no formal religious education. Chris grew up in the wake of America's War in Vietnam–a war his father had served in as a medical officer for the U.S. Navy–and watched the First Gulf War (1980-1988) as well as the final years of the Cold War (1985-1991) unfold on television. He learned at a young age that war hurts and he should be skeptical of military solutions. Compassion, hospitality and public service were all deeply held family values. His mom also taught him, "if you can't say something nice don't say it at all," but that was one lesson that never took root.
Chris left Maine to enroll in Rhode Island School of Design, but his social conscience was awakened by the Second Gulf War (1990-1991) and the Rodney King Riots (1992) so he dropped out after two years, preferring instead a life of poverty and spiritual discipline within the Unification Church. During his decade of involvement in that community Chris met his life partner, Mitsuko Ishikawa, and they were married in a public ceremony in Washington D.C. that involved thousands of couples and was officiated by the Rev. Sun Myung Moon. After Congress passed the International Religious Freedom Act of 1998 Chris entered seminary and began work as a research associate for the International Coalition for Religious Freedom, under the guidance of Dan Fefferman, and developed advocacy skills in Washington D.C. meeting then Ambassador-at-Large for International Religious Freedom Robert Seiple at the U.S. State Department Office of International Religious Freedom and members of the U.S. Commission on International Religious Freedom. Chris' research contributed to the first five editions of the Annual International Religious Freedom Report to Congress.
Chris was teaching and doing research in South Korea with Mitsuko and their first child when the tragedies of September 11, 2001 occurred. He watched from afar as the Bush Administration launched the Third Gulf War (2003-2011) and witnessed Korean outrage over speculations that North Korea would be the next target of President Bush's "preventive war" against the "axis of evil." When Chris returned to the U.S. in 2003 he completed his seminary degree then followed his heart to the Unitarian Universalist Fellowship of Poughkeepsie and found the community a good fit. At the age of thirty-five, he decided to pursue a career as an ordained minister and, concerned about the preponderance of evangelicals in the U.S. military and the human cost to America's wars, began to discern a call to military chaplaincy.
Chris completed clinical pastoral education at Westchester Medical Center under the supervision of the Rev. Susan Lunning and at Albany Medical Center under the supervision of the Rev. Harlan Ratmeyer. In both residencies he specialized in trauma care. He was mentored by the Rev. Kay Greenleaf, then minister an now emeritus of the Unitarian Universalist Fellowship of Poughkeepsie, and completed his parish internship at the First Unitarian Universalist Society of Albany, New York under the supervision of the Rev. Sam Trumbore. Beginning in 2009, Chris also studied under the guidance of Edward Tick, co-founder of Soldier's Heart and author of the influential book War and the Soul. Chris was ordained by that society on March 20, 2011. Douglas Johnston, another one of Chris' teachers, who founded the International Center for Religion and Diplomacy and wrote Religion: The Missing Dimension of State-Craft, delivered the ordination sermon.
Rev. Antal was hired as the consulting minister of the Unitarian Universalist Congregation at Rock Tavern and began his service there in September 2011. In June 2012 he took a leave of absence for military service in Afghanistan, where he was a chaplain for a signals battalion from the New York Army National Guard supporting the Third Infantry Division of the U.S. Army. As he was gearing up for his deployment, Chaplain Antal entered into a covenant with the Church of the Larger Fellowship and their Board recognized him as their first community minister. Rev. Antal established a written agreement with the Rev. Meg Riley that included an understanding he would post on their public blog site Quest for Meaning during his service on active-duty.  While deployed Chaplain Antal established and led the Kandahar Crossroads Unitarian Universalist Fellowship. After he redeployed Rev. Antal returned to Rock Tavern and the congregation called him to be their settled minister. Rev. Antal was installed in a ceremony on March 22, 2015. The Rev. Sarah Lammert, Director of Ministries and Faith Development for the UUA, delivered the installation sermon and Edward Tick provided the charge.
Chaplain Antal served five years as a military chaplain, first with the New York National Guard (2011-2013) and later in the U.S. Army Reserve (2014-2016) with one tour on active duty in Afghanistan (2012-2013), which came to an abrupt end when Brigadier General Scottie D. Carpenter officially reprimanded him for posting a "politically inflammatory" sermon, "A Veteran's Day Confession for America" on the Church of the Larger Fellowship website, where he was identified as a U.S. Army chaplain and a photo of him in uniform had been posted. Despite an appeal supported by dozens of letters from American service-members, veterans, and concerned citizens, including letters of support from subject matter experts like Edward Tick, CH (COL) Herman Keizer, USA retired, and Unitarian Universalist theologian Paul Rasor, the reprimand was not rescinded and the signals battalion commander used it as a basis to release Chaplain Antal from active-duty. Although Chaplain Antal continued to serve in uniform for three more years, and was promoted to captain and transferred to the U.S. Army Reserve with the help of a Congressional Inquiry by Senator Kirsten Gillibrand,  he resigned his commission on April 12, 2016 in a letter to President Obama, an act of protest against U.S. policies regarding killer drones, nuclear weapons, and preventive war. His stand of faith and conscience was reported in Army Times, Military.com, ABC News and Rev. Antal was invited to speak on The World, The Takeaway, and Democracy Now.
Rev. Antal is a member of the Unitarian Universalist Ministers Association and holds himself accountable to their Guidelines for the Conduct of Ministry. He has advanced degrees from Yonsei University in South Korea (MA, 2003) and Unification Theological Seminary in New York (MDiv, 2004) and is a candidate for the Doctor of Ministry from Hartford Seminary. He recently published together with Kathy Winnings "Moral Injury, Soul Repair, and Creating a Place for Grace," in the Journal Religious Education.
Chris is married and lives with his wife and their five children in the Hudson Valley.