Date/Time
Date(s) - Friday, February 16, 2018
7:00 pm - 8:30 pm
Location
UUCRT
Categories
Friday, February 16
7:00-8:30pm
Unitarian Universalist Congregation at Rock Tavern
9 Vance Rd, Rock Tavern, NY 12575
Sound has been used for healing and expansion of consciousness for thousands of years. Therapeutic vibrations are known to reduce stress, quiet the mind, and relax the nervous system. The resonance and frequencies of sound healing instruments affect us at the physical (cellular) level, the energetic (chakras and channels) level, and the mental (brain waves) level, restoring the natural harmony of body, mind and spirit.
Using ancient and modern healing instruments, such as Himalayan bowls, crystal bowls, gong, drums, shakers, flutes and chimes, Celine and Julie will create a field of sacred sound and guide the group into deep meditation. This state of expanded awareness is where we can access insights from our deepest intuition and highest wisdom.
"He who knows the secret of sound, knows the mystery of the whole universe." 
~ Hazrat Inayat Khan
Participants usually lie on the floor so please bring a yoga mat and blanket. Some people like to have an eye mask. Chairs will be available for those who prefer to sit.
Exchange: $20 at the door (cash only)
For questions, email HAsoundbath@gmail.com
Celine Daly is a musician and sound practitioner with a background in medicine, yoga, and meditation, and has also studied alternative healing modalities, such as sound healing, acupuncture, craniosacral therapy and Reiki. Visit her web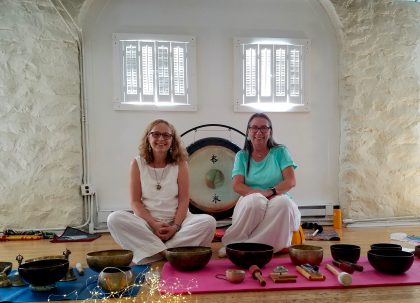 site at www.celinedaly.com
Julie Harris is a Holy Fire II Karuna Reiki Master and an award-winning Native American-style flute player who has studied sound healing. She is trained in acupressure and is a minister in the Heart River Center for Intuitive Healing.
Celine and Julie also perform in the organic fusion band, Heartwood (www.heartwoodband.com)