.
Unitarian Univeralist Congregation Rock Tavern
Services on Sunday at 10:30
Welcome Resident Minister, Rev. Diane Diachishin!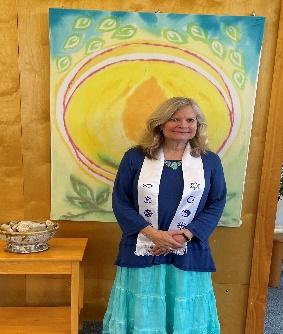 Rev. Diane graduated and was ordained by All Faiths Seminary in NYC in 2022. She taught music for 30+ years in private and public school systems.  She has been an active member of the UUCRT for 25 years, wearing many hats. Diane has been Chair of Pastoral Care, served as VP and Secretary  to  the Board, and  Chair of  Sunday Service Ministry . She facilitated the study and practice of Compassionate Communication for several years, and currently facilitates the monthly Soul Matters group. Diane considers herself a life- long Unitarian. From the age of four, summer vacations were spent with her family and her Star Island community , at an ongoing  retreat for UU's  of all ages, which still continues to be  a source of renewal and inspiration for her. Diane is passionate about her family, playing music, hiking, and travel.
Art Sets the Stage for Our Services; it Needs Your Support
"Showing up is not all of life – but it counts for a lot." -Hillary Clinton

The walls of the UUCRT Sanctuary tell a supportive and artistic story closely aligned with long-time member, speaker and former president (at least twice) Mike Landrum. He has devoted his time, talent and energy to ensuring that our sanctuary is adorned with colorful and interesting works of art – from paintings, to sculpture to photos.

All of these works are produced by local artists, mostly from the Wallkill River School of Art and from other sources that Mike is in touch with. Almost every month, Mike corrals new paintings and other artwork to grace the sanctuary. An added benefit is that sales of the artwork contribute a percentage to our treasury.

Think of the walls of our sanctuary as the stage setting for a dramatic play. They enhance and support our mission, our speakers, our community, local artists and the overall atmosphere of the room much like a dramatic setting on Broadway does, or, in our case, "way-off Broadway"!

If this ongoing endeavor is to continue, Mike needs support in the form of showing up for the art show openings. An appreciative audience tells the artists, the organizations they support, and others, including Mike, that we appreciate and support their efforts. Lack of support also tells a story and, unfortunately, one that could lead to empty walls and a less appealing setting for Sunday services and our concerts.

The next art show features surrealist Rick Weber and will grace our walls in March and April.

The opening reception will be Saturday, April 8 from 3 to 5 p.m. We'll have additional information and photos to share soon. Hope to see you there!
We Love Movies!
We Love Movies! (NOTE new day)
In March, the first THURSDAY,
not the first Monday
, at 7 pm
via
Zoom.
On
March 2
we will discuss
All Quiet on the Western Front
which is available on Netflix. This Oscar nominated, German-made movie is based on the classic novel by Erich Maria Remarque, portraying the senseless dehumanization of war. The Zoom link is on the UUCRT.org website and in the weekly e-Blast.
Notice the day change.
CLICK HERE TO JOIN
Book Club – We Love Books!
In March, the third Thursday, NOT
the third
Monday,
at 7 pm
via
Zoom
.
On
March 16
, the book group members will report on 1 or 2 books they have enjoyed and would recommend for others to read. This is an opportunity to advocate for a favorite book or to have time to read a book you have been wanting to read. The Zoom link is on the UUCRT.org website and in the weekly e-Blast.
CLICK HERE TO JOIN
We Are Unitarian Universalists
We saw this video at our Nov. semi-annual meeting /service and many requested that it be featured on our website. Please copy and paste the link below to access "We Are Unitarian Universalists".
Would you like more information?
*** Important Changes
REMINDER:
The ONLY multi-platform service will be held on the last Sunday of the month.

To join using computer, tablet or smartphone:  https://zoom.us/j/94071188132 
To join by phone:+1 929 205 6099 US Meeting ID: 940 7118 8132
~~~~~~~~~~~~~~~~~~~~~~~~~~~~~~~~
      Order of Service for Sunday, March 26, 2023
Inviting Bell
Prelude – Hollis Kellog
Opening Words – Donald Rothberg, "The Engaged Spiritual Life"
Welcome and Announcements
Chalice Lighting – Melanie Davis
Opening Song – A prayer for all beings by Jennifer Berezan
Offering & Offertory
First Reading – Bell Hooks
Sharing of Joys & Sorrows
Moment of Silence – Two minutes
Presentation – "Releasing Aging People out of Prison" offered by Noel Casey and joined by RAPP member and HV resident, Michael Love.
Group Discussion
Closing Song – "Home" (from the Wiz)
Closing Words – David Richo, Words to consider as we extinguish our chalices.
Closing Fellowship Circle
Extinguishing the Chalice – Extinguishing the Flame by Elizabeth Selle Jones
We extinguish this flame but not the Light of Truth, the Warmth of Community, or the Fire of Commitment. These we carry in our hearts until we are together again.
Worship Associate:  Jaye Moyer
Zoom Host : Elizabeth Mehling
Multi-platform host: Rose O'Neill
Piano: Hollis Kellog
Reader: Nan Dempster
~~~~~~~~~~~~~~~~~~~~~~~~~~~~~~~~
Coffee Hour Hosts Needed
Signups will be available in the weekly eblast beginning on May 20th. Please select a date that is convenient for you. The expectations for each is in the Sign Up. ~~~~~~~~~~~~~~~~~~~~~~~~~~~~~~~~
Please Come to Happy Hour!
Fridays
5pm Happy Hour 
 We'll meet for our weekly Friday happy hour and join together to celebrate our fellowship and friendship. Make yourself a cocktail, a cup of hot chocolate or pour a glass of your favorite.                                                            
CLICK HERE TO JOIN
~~~~~~~~~~~~~~~~~~~~~~~~~~~~~~~~
Strategic Planning to Meet
The Strategic Planning Membership Group
will have a Zoom meeting on Thursday, November 30 at 5pm to consider the Guidelines for Volunteer Interaction with Visitors… and to plan for a new member ceremony.  Your ideas are welcome.  To join,
CLICK HERE.
**Below are local events that Members either support or are involved in. While they may be of interest to Members and Friends, they are not necessarily endorsed by the UUCRT.