By Pauline Liu
Times Herald-Record
NEWBURGH – Dozens of demonstrators rallied outside the Masjid Al-Ikhlas mosque in Newburgh on Sunday to protest what they referred to as President Donald Trump's ban on Muslims.
His executive order bars citizens of seven Muslim-majority countries from entering the United States for the next 90 days and suspends the admission of all refugees for 120 days.
The countries named are Iraq, Syria, Iran, Sudan, Libya, Somalia and Yemen.
Most of the demonstrators were members of the Greater Newburgh Interfaith Council, including several area clergy members.
Some of those taking part called Trump's new policy "unAmerican."
They carried signs with messages including "We stand with our Muslim neighbors" and "Refugees welcome."
"President Trump took a wrecking ball to the Statue of Liberty and dashed the hopes of the huddled masses yearning to breathe free across the globe," said council president Rev. Chris Antal of the Unitarian Universalist Congregation in Rock Tavern.
Trump's ban stranded some Muslim travelers at U.S airports on Saturday before the restrictions were partially lifted by a federal judge.
The court-issued stay will not necessarily prevent other Muslim travelers from being detained at airports.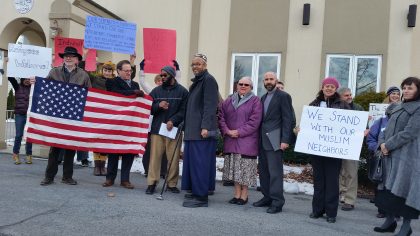 That's why Gov. Andrew Cuomo announced on Sunday the launch of a confidential toll-free hotline for New Yorkers to report family members, relatives, friends or colleagues believed to be passengers on incoming flights to the state but who are missing or believed to be detained.
"We will ensure New York remains a beacon of hope and opportunity and will work to protect the rights of those seeking refuge in our state," said Cuomo. The hotline number is 1-888-769-7243.
Newburgh City Councilwoman Karen Mejia also spoke out against Trump's executive order on Sunday, calling it "shameful."