Veterans for Peace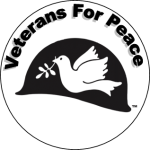 Hudson Valley Chapter 177 of Veterans For Peace is currently on hiatus. It was formed in 2016 and met regularly at the UUCRT. Veterans can join as members and non-veterans can join as associate members.
Veterans For Peace (VFP) is an international, not-for-profit organization made up of military veterans, military family members, and allies. It accepts veteran members from all branches of service and is dedicated to building a culture of peace, exposing the true costs of war, and healing the wounds of war. Networks include over 120 chapters across the United States and abroad.
Basic membership dues are $40 per year payable to the National Veterans for Peace. Discounts and free memberships are available for various categories of veterans and active duty personnel.
According to the VFP Statement of Purpose, the organization works:
To increase public awareness of the costs of war
To restrain our government from intervening, overtly and covertly, in the internal affairs of other nations
To end the arms race and to reduce and eventually eliminate nuclear weapons
To seek justice for veterans and victims of war
To abolish war as an instrument of national policy.
Veterans and others wishing to join and help restart activities at the Hudson Valley VFP chapter can contact John Kinney at info.uucrt@gmail.com. For information about VFP's purpose and mission, its website is www.veteransforpeace.org.