Congregation In Action
An extra special Thanksgiving for some, thanks to Bill!
​Since the beginning of the pandemic, the UUCRT has been distributing food to local families in need. Bill Domanico, Vice President of the UUCRT has been tirelessly working on this project since it began. In the spirit of giving and what Unitarian Universalism is all about, Bill has personally donated several turkeys so these families in our community will be able to have a traditional Thanksgiving meal this year. Way to go Bill!
Fred, Linda, Bill and Nora continue to pick up and deliver food to families in New Windsor and Newburgh. If you (or someone you know) needs assistance, please call 845-288-3488 or email UUCOVID19TF@gmail.com.
Check out Elizabeth Mehling's film:
Memories of Rain

!! What a great accomplishment!

You can watch it by clicking on the following link https://vimeo.com/503492363. The summary: A woman must face a physical manifestation of her mental illness if she is to win back control of her mind and her memories.

Elizabeth wrote and directed it and it's won a bunch of awards! Here are a few:

New York Animation Film Awards (NYAFA) – SEMI-FINALIST; International Student Animated Film Animafantasia Festival 2020 – FINALIST; IMAGINE RAIN Independent Film Awards – WINNER, Best Student Short; IMAGINE RAIN Independent Film Awards – Honorable Mention, Best Female Filmmaker; Beyond The Curve International Film Festival – FINALIST, Best Student Film; Hollywood Blood Horror Festival – WINNER, Best Animated; Rome International Movie Awards – WINNER, Best First Time Director; Best Poster; Best LGBTQ Film; Thrills and Chills Film Awards – WINNER, Best Experimental Short; Phoenix Shorts – Nominee, Best Animated Short; 4th Dimension Independent Film Festival – FINALIST, Best Animated Short; Medusa Film Festival – WINNER, Best Short; Cult Movies International – WINNER, Best Student Short

More info on the film can be accessed on her IMDB page: https://www.imdb.com/title/tt10981894/
June 2021 – Cleaning out the COVID cobwebs
Jay places baffles in the Fellowship Hall. Patrick, Linda and Kathy support him at the June work day.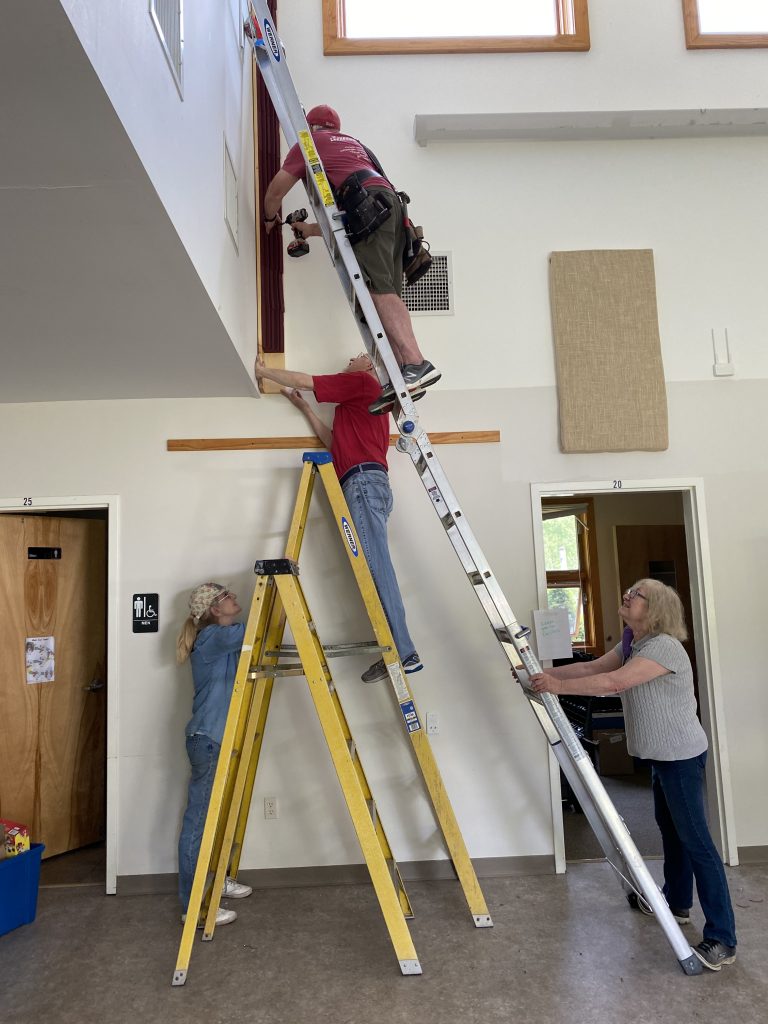 Oct. 2020 – Mike Landrum's sculpture
A nod to the Roots and Wings of our 150th Anniversary has been added to our Sanctuary.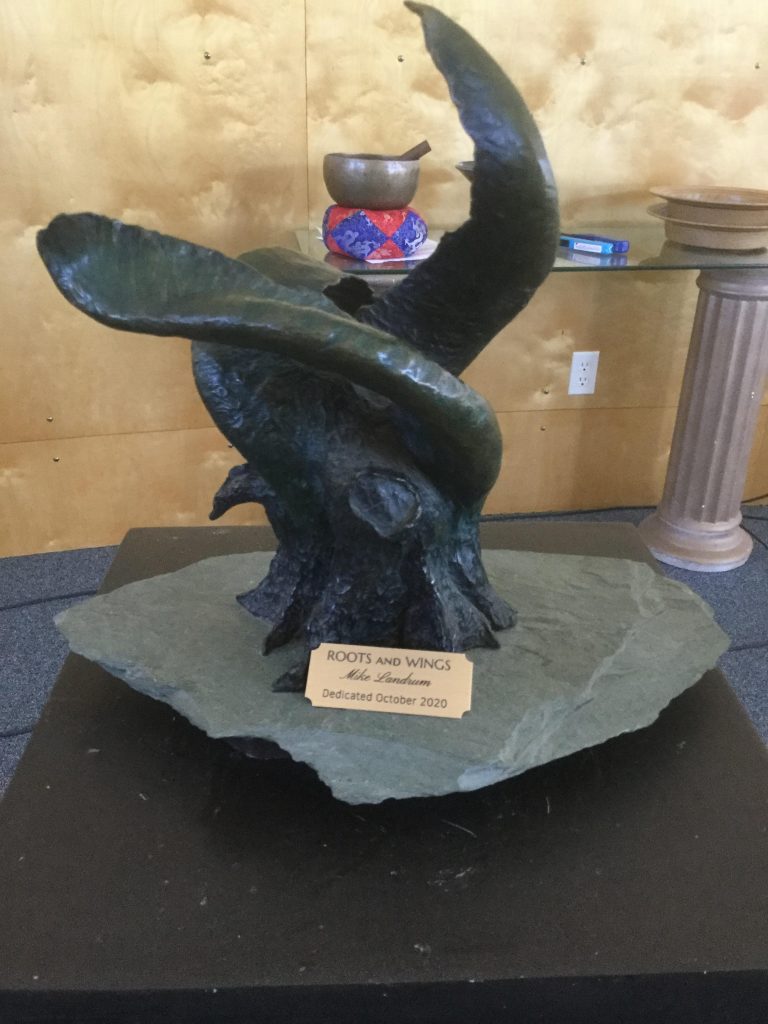 The UUCRT COVID-19 Response Task Force Food Security Initiative
Delivery of the first of many loads of groceries that are being prepared to be distributed to those in need of assistance.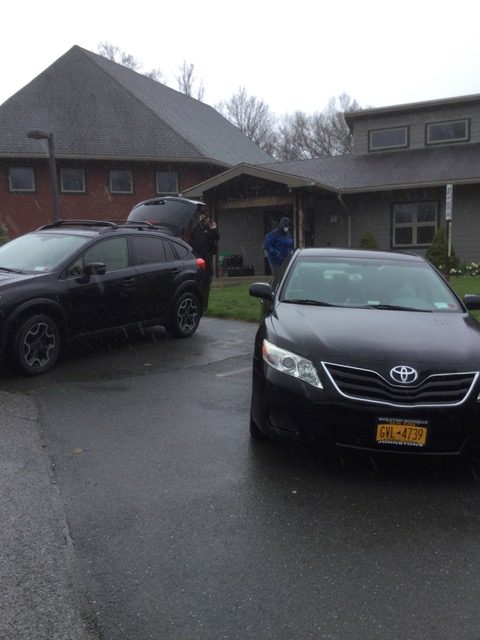 The first transfer of non-perishable foods to the UUCRT took place on a rainy Thursday morning, April 29, 2020. Bryon Adams, overseer of the UUCOVID19TF task force met Bernadette McGinn, Nora Guillardo and Fred & Linda Mangelsdorf at the United Methodist Church on Main St. in Middletown. Trunks were opened and 80 bags of food relocated for the trip to Rock Tavern. Once there, the team sorted the bags so that each of 40 families will receive 2 bags of cereal, canned goods and other non-perishables.
Requests for the food should be made to Bryon at 845-288-3488 or UUCOVID19TF@gmail.com
Marcia Westra
Making Masks to Support Hospital Workers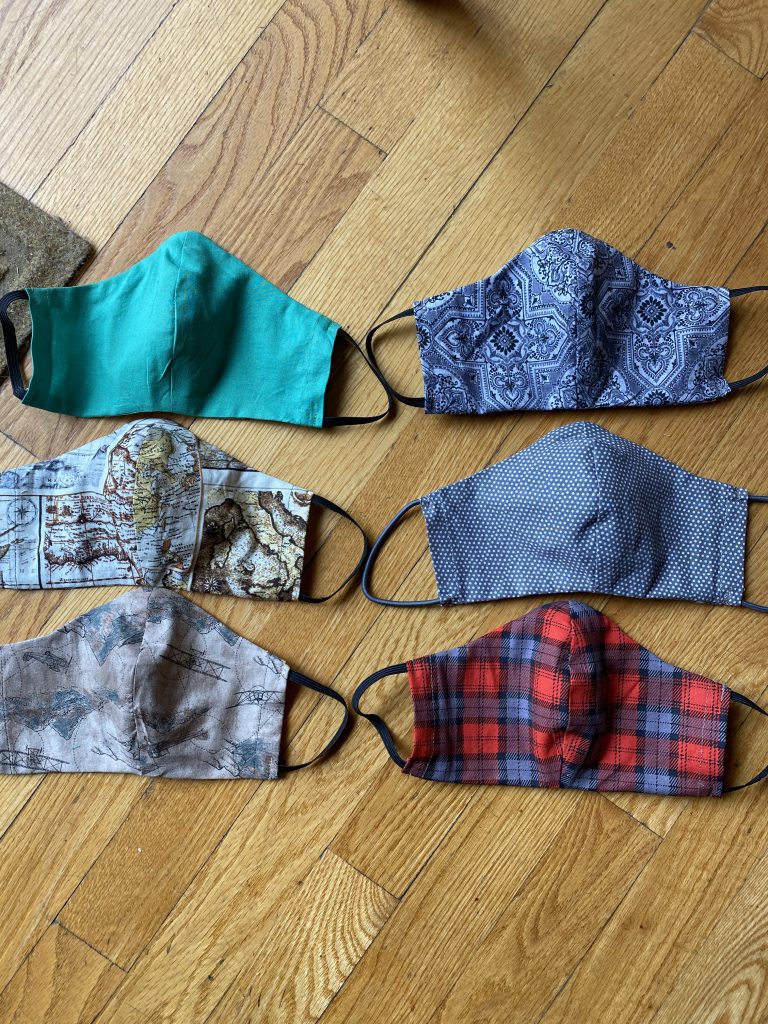 I started making face masks for the ICU staff at Montefiore St. Luke's Hospital in Newburgh when a long time nurse patient of mine told me that they were having to reuse their N95 masks way too much. When I mentioned this to my daughter (who is faculty in a spiritual care dept in a UCSF hospital in California) she asked for some too because they were running out of surgical masks entirely – which they did within the week. Family first – I kicked out 10 the first day and mailed them the next.
Then I sewed my brains out every minute until I turned out 18 over the following 2 days for the staff at MSLC and gave those to the nurse. I had to have her first come over for a fitting to see what length of elastic or shoelaces I needed for them to fit around the head over the masks. So much for professional and personal boundaries!
I then received a request from my old denomination to make some for the Rural and Migrant Ministry upstate. So I went back at it with my remaining fabric using rubber bands and pony tail holders instead of the nonexistent 1/4 inch elastic. I sent 17 off to them, then finished up a few more here at home where I have about 6 left, including a small range of color choices for myself. You know how I like fashion! With my hair growing shaggy, I need to be masked!