Lifespan Religious Exploration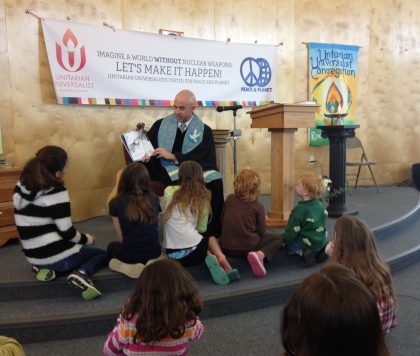 We believe that intellectual, emotional, and spiritual growth is a lifelong process, and not restricted to the classroom alone. At Rock Tavern, lifelong learning and spiritual development are nourished by exploration of the world's religious traditions, study of our Unitarian Universalist heritage, and integration of the arts with moral and spiritual development. Our Lifespan Religious Exploration Committee plans and coordinates liberal religious education programs for children, youth, and adults in our congregation and our community.
Join Us!
Do you have ideas for new programs for teens and youth?
Would you like to see more creative and inventive learning opportunities offered for children at Rock Tavern?
Do you have a vision for adult religious exploration?
If so, contact Laura Bair, chairperson for the Lifespan Religious Exploration Committee.
There are plenty of other ways to get involved, too.
Perhaps you might like to:
join the intergenerational worship team, which will work with Reverend Chris to offer meaningful multigenerational services once a month.
teach our kids on Sunday mornings (no teaching experience necessary!).
offer an Adult RE class. Would you like to lead a book club, a spiritual gathering, or a study group? Let us know so we can support you.
teach an art class, lead a yoga session, or sing or make music with the kids. Just a single Sunday morning get-together with the kids can make a world of difference.