Lifespan Religious Exploration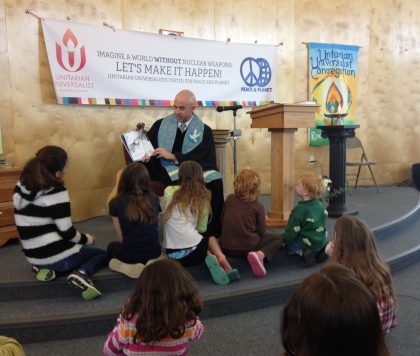 We believe that intellectual, emotional, and spiritual growth is a lifelong process, and not restricted to the classroom alone. At Rock Tavern, lifelong learning and spiritual development are nourished by exploration of the world's religious traditions, study of our Unitarian Universalist heritage, and integration of the arts with moral and spiritual development. Our Lifespan Religious Exploration Committee plans and coordinates liberal religious education programs for children, youth, and adults in our congregation and our community.
Message from the Board for September 2016: 
A New Way of Looking at Religious Exploration and our Ministry to Families
In keeping with the Congregational Covenant, members of the UUCRT have agreed that we "covenant with each other, promising goodwill and honest effort, pledging our care and support to one another and to our UUCRT community…" With that pledge in mind, the Board of Trustees has been discussing how we might better welcome families to participate in the UUCRT community. You may have noticed some changes already. We no longer ask parents to "watch your children," in the Sunday bulletin.  The wording has been changed to something
more welcoming.  Updates have also been made in the small children's room outside of the sanctuary. However, we need more change to fulfill what the UUA calls, "Family-affirming Ministries," that "involve building a partnership between congregation and home."
To this end, the UUCRT will be embarking on an untraditional RE model for the 2016 – 2017 year.  Responses to the questionnaires earlier this year were used to develop the following plan.  These responses indicated a need for primary care during the Sunday service so that parents of babies and young children have time to nurture their own spiritual needs and activities where tweens and teens have time to socialize and build bonds between one another while keeping the principles we share as Unitarian Universalists.
The Board has agreed to address these needs as follows:
* Beginning in mid-September, we will have a babysitter available from 10:15 until 12:15 in the children's room for babies through age four or five or as needed.  This will give parents time to tend to their own spiritual needs and time to enjoy one another's company during the time for hospitality after the service.
* One Sunday a month RE service will be offered during the service.
* Approximately, one evening a month, a "Tween and Teen" gathering will take place in the fellowship hall that will allow young people the time they desire to get to know one another in a manner that embraces our principles.  Some of the direction for how these gatherings go will come from the participants who may want to plan a service, organize an outing, discuss timely issues, or promote social action.  We hope to have a sufficient number of participants to divide this group into two age groups; eight to twelve and twelve to sixteen.  Children attending these gatherings will be encouraged to invite a friend, and students from the Birch School will be invited as well as the young people from the Unitarian Congregation in Rockland.
We ask that you reflect on the direction outlined above and offer additional suggestions you might have by contacting Laura Bair at lagbair@aol.com.  We also ask that you use the same email address to RSVP to Laura if your family will be taking part in any of the RE offerings this coming school year.
The "nuts and bolts" of the program follow:
Sunday Morning Babysitting: Hours 10:15 to 12:15. The babysitter will need to be at least eighteen years old and have their own means of transportation. Please contact Laura Bair (lagbair@aol.com) if you have a candidate in mind for this position. This will be a paid position.
One Sunday a month RE:  Many thanks to Jeanette Lamb for offering to provide this service to our families.  The program will begin the first weekend in October.
One evening a month RE:  To begin September 30th and continue throughout the year on the last Friday evening each month with the exception of November and December (when there will be one Friday gathering for the two months on the first Friday evening in December).  Times will be 6:30 – 9:15 for supervising adults and 7:00 to 9:00 for participants.
When you indicate your interest in having your child attend, Laura will send you a form to complete that we may keep on record. This form will include contact information and any pertinent health information, and will be needed for invited guests as well.
We need volunteers to make this program work. Several parents have indicated their willingness to help which is wonderful.  However, we heard a definite desire to have more autonomy from the older group.  They would probably best be served by members of the congregation who may not have kids who will be participating. If you are willing and able, a parent or not, please send an email stating your interest in taking part in this vital, family ministry.
Thank you,
Laura, Mike M., Mike L., Twila, Jane, Alan, and Hollis