Volunteer Opportunities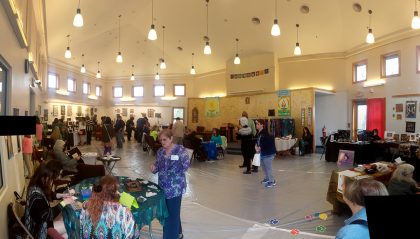 There are many opportunities available for you to apply your interests, talents and skills to the service of the UUCRT. Here are some opportunities that you may wish to consider (as of January 2020)
Communications Ministry

change the sign board on route 207 with a new message from the Board each month
update the website or Facebook page
contribute to the newsletter

Welcome Ministry

serve as a greeter on Sunday morning
serve a meal at a New to UU breakfast or dinner

Sunday Service Ministry

serve as a worship associate on a Sunday morning

Stewardship and Finance Ministry

run the Equal Exchange coffee shop and table one or more Sunday

Lifespan Religious Exploration Ministry
Do you have ideas for new programs for teens and youth?
Would you like to see more creative and inventive learning opportunities offered for children at Rock Tavern?
Do you have a vision for adult religious exploration?
There are plenty of other ways to get involved, too.
Perhaps you might like to:
join the intergenerational worship team, which will work with Reverend Chris to offer meaningful multigenerational services once a month.
teach our kids on Sunday mornings (no teaching experience necessary!).
offer an Adult RE class. Would you like to lead a book club, a spiritual gathering, or a study group? Let us know so we can support you.
teach an art class, lead a yoga session, or sing or make music with the kids. Just a single Sunday morning get-together with the kids can make a world of difference
Please contact the ministry leader or the minister if you wish to volunteer for any of the above opportunities.