Peace Advocacy Congregation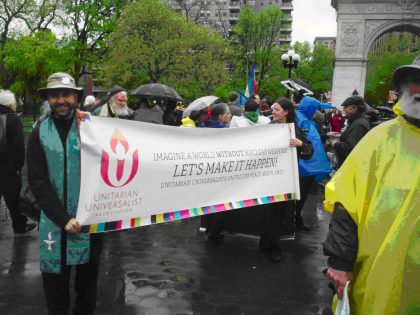 We received the wonderful news in September 2015 that our congregation has been certified as a Peace Advocacy Congregation by the UU Peace Ministry Network (see below), a volunteer organization of UUs dedicated to promoting a culture of peace in our families, our society and the world. Their unanimous decision makes the UUCRT the tenth such congregation in the UUA.
For the complete story of Rock Tavern's work for peace, read the UUCRT Peace Advocacy Congregation Narrative here.
The board and congregation had previously signed on to endorse the UUA Creating Peace Statement of Conscience (2010).
A congregation may become a Peace Advocacy Congregation by performing an ongoing range of peace activities in the areas of international peace; personal, domestic and congregational peace; peace lobbying and activism; and military personnel support.
The Peace Ministry Network "assert[s] that there are nonviolent ways to demonstrate our country's fundamental values of respect for life and inherent dignity of all the peoples of the Earth. We believe that violence in our families, schools and congregations can be reduced with training in nonviolent behavior. To these ends, the Peace Advocacy Program has been developed to encourage UU congregations to act on these yearnings by creating a culture of peace."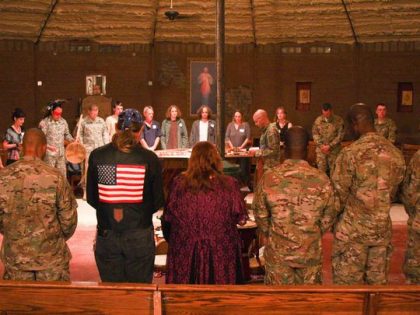 To attain the certification, board member Nate Binzen worked closely with Rev. Chris to write a narrative describing the UUCRT's peacemaking activities in recent years and decades. This report creates a record of the impressive efforts and achievements of many dedicated members of the congregation. It also spells out our vision for peace advocacy, which gives special attention to the complex push-and-pull of support for military personnel and resistance to state violence. Copies are available at this link: UUCRT Peace Advocacy Congregation Narrative.pdf.
There is too much to celebrate in our past work to recount here – that's what a 10-page report is for! – but just a taste of it would include our collective attendance at the Peace and Planet actions in New York City this past April (the largest UUA contingent there!); our journey with Rev. Chris as military chaplain; our recent work with the LGBT community at West Point; activism concerning moral concerns about drone warfare; and decades of member engagement in groups like Women in Black and the Wounded Warriors Project.
An honoring of the UUCRT's new status will occur at the next UUA General Assembly in June 2016, which Rev. Chris will attend. But becoming recognized as a Peace Advocacy Congregation is only a stop on the path, and in fact it points to a commitment to continue with our vigorous peacemaking actions in the future.
The other nine Peace Advocacy Congregations:
West Shore Unitarian Universalist Church (OH)
First Unitarian Universalist Church of San Diego (CA)
East Shore Unitarian Church (WA)
Unitarian Universalist Congregation of Glens Falls (NY)
Unitarian Universalist Church West (WI)
UU Society of Geneva (IL)
First UU Society of Albany (NY)
Unitarian Universalist Fellowship of Huntington (NY)
Unitarian Church of Evanston (IL)
Read the complete UUCRT Peace Advocacy Congregation Narrative.pdf.
What is the Peace Ministry Network?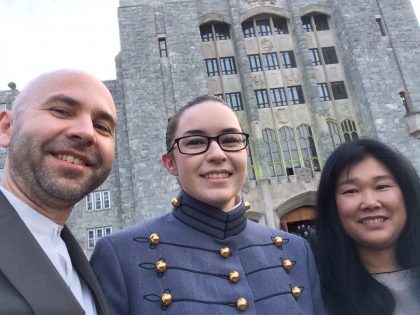 The Peace Ministry Network is an outgrowth of the Peacemaking Congregational Study/Action Issue (CSAI). It is a continuing force urging our association to create and maintain a culture of peace to counteract violence. It brings together news and resources developed during the CSAI, the United Nations UN Office, the UUService Committee, the Charter for Compassion and other UU peace news and announcements.
Concept
The Peacemaking CSAI formally ended at the 2010 General Assembly with the passage of the "Creating Peace" Statement of Conscience. During the 3 year process, many UUs became energized to promote peace as never before. The purpose of the Peace Ministry Network is to institutionalize this energy at the national level to encourage a culture of peace within our families, our association, our communities and throughout the world.
Objectives
The Ministry will:
provide resources to the congregatioins with the opportunities for peace activities.
encourage peace workshops to be given at the district and general assembly levels.
provide internet tools to encourage individual and congregation communications of peace activities and other resources.
encourage communication and activity coordination between UUs and individuals and organizations of like interests.
manage the Peace Advocacy Program (PAP). Through the PAP congregations can become "Certified Peace Advocates" by completing a regimen of peace tasks.
Organization
The Ministry of Peace Network is an online organization independent of the UUA. As such, it will not receive any professional funds or staff support. It will be supported by volunteers in the UU organizations served.
We invite anyone interested to join the Peace Ministry Network to help keep peace at the forefront of UU Congregational Agendas.
From the UU "Creating Peace" Statement of Conscience:
In 2010, the UU General Assembly adopted the "Creating Peace" Statement of Conscience. Here is a relevant section from that Statement of Conscience:
Creating Peace in Our World

We covenant to advocate vigorously for policies and participate in practices that move our nation toward collaborative leadership in building a peaceful, just, and sustainable world, including:

supporting the Unitarian Universalist-United Nations Office in advancing the United Nations' efforts in promoting peace, and its implementation of the Universal Declaration of Human Rights;

supporting the Unitarian Universalist Service Committee in ending the use of torture and addressing institutional violence in all its forms;

supporting the Unitarian Universalist Association and our congregations in influencing public policy decisions made by the U.S. Congress and Administration; and

participating in international civilian peace building, peacemaking, and unarmed peacekeeping teams.
What is the UN International Day of Peace?
The International Day of Peace ("Peace Day") provides an opportunity for individuals, organizations and nations to create practical acts of peace on a shared date. In 2002 the UN General Assembly officially declared September 21 as the permanent date for the International Day of Peace.
By creating the International Day of Peace, the UN devoted itself to worldwide peace and encouraged all of mankind to work in cooperation for this goal. During the discussion of the UN Resolution that established the International Day of Peace, it was suggested that:
"Peace Day should be devoted to commemorating and strengthening the ideals of peace both within and among all nations and peoples…This day will serve as a reminder to all peoples that our organization, with all its limitations, is a living instrument in the service of peace and should serve all of us here within the organization as a constantly pealing bell reminding us that our permanent commitment, above all interests or differences of any kind, is to peace."
Since its inception, Peace Day has marked our personal and planetary progress toward peace. It has grown to include millions of people in all parts of the world, and each year events are organized to commemorate and celebrate this day. Events range in scale from private gatherings to public concerts and forums where hundreds of thousands of people participate.
Anyone anywhere can celebrate Peace Day. It can be as simple as lighting a candle at noon, or just sitting in silent meditation. Or it can involve getting your co-workers, organization, community or government engaged in a large event. The impact if millions of people in all parts of the world, coming together for one day of peace, would be immense.
International Day of Peace is also a Day of Ceasefire – personal or political. Take this opportunity to make peace in your own relationships as well as address the larger conflicts of our time. Imagine what a whole Day of Ceasefire would mean to humankind.