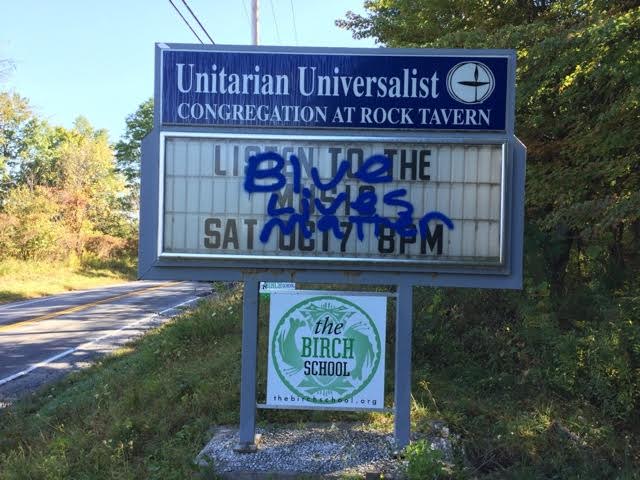 This morning I discovered that someone vandalized the UUCRT road-sign and banners that congregants hung on the UUCRT property. The perpetrator (s) of this offence used blue spray paint and wrote "Blue Lives Matter" on both sides of the road-sign and on the rainbow flag. The perpetrator (s) also wrote obscenities on the Veteran's for Peace flag and stole the "Refugees Welcome" and "Black Lives Matter" flags.
I was saddened but not surprised to see what had been done. The first Black Lives Matter banner this congregation hung was stolen. Congregations like ours across the United States whose members have taken similar stands of conscience have become the target of attack.
The members of the UUCRT certainly took the risk of attack into consideration throughout the long process of discernment the community went through before taking a public stand of conscience in support of the Black Lives Matter movement. We knew we risked becoming a target. Nevertheless, we chose to assume risk and be a shield to help protect the marginalized and vulnerable populations among us. In attacking us, the perpetrators have only strengthened our resolve to be that shield.
To the perpetrator (s) and their sympathizers I say this: we are a people who respect the inherent worth and dignity of every person, black people, "blue" people, even you people who have attacked us. We are not interested in punishment and will not prosecute you for this offense. We invite you to dialogue. I will buy you lunch. I will give you the pulpit to deliver your message on a Sunday morning. We may not agree with you, but we wish to understand the concerns that motivated you to do what you did. We will hear you out.
Please come to our public community forum, Sunday October 8, 2017, 12:30, at the UUCRT at 9 Vance Lane. The topic, "Valuing Black and Blue Lives in Our Community: A Dialogue."
The Rev. Chris J. Antal, D.Min.