Special Message on Responding to the Ukraine Crisis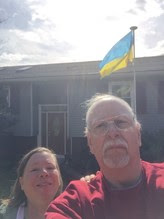 As President of the Board of Trustees, I have received a lot of communication (in-person, by phone, by electronic messages, and by attending services, concerning our response to the Russian invasion of their Democratic neighbor. 
While most or all in our congregation have been very supportive of the Ukraine, there are strongly contradictory opinions as to the UUCRT's exact role in responding to this event.
First, I need to correct anyone who thinks that the members of the board have been deaf or indifferent to the call for helping Ukraine. This issue has been seriously discussed among both the members of the congregation and with the board. There is a difference between not immediately adopting a proposal, and not caring. Some of us have added our voices and money before this was raised during the last two services.
Second, numerous individuals are adamantly against using discretionary funds for national or international charitable causes, as this is outside the purpose people donated their money for (supporting members in need and the community). This month, the board increased expenditures for alleviate food shortages in our community. Some are concerned that as a congregation that can't afford a minister, and are short of funds for other needs, we shouldn't do this.
Third, the idea using the UUCRT as a pass-through of charitable contributions is causing resentment. Some congregants have already given to organizations supporting the people of Ukraine. Others don't agree that the UUCRT should decide for them which charities to support. If members feel that they are donating money to the church, and the church then decides how to distribute the money by selecting charities that may reduce the money people may decide to contribute.
Lastly, this opens us up to unintended consequences. In the future, there may be some who insist on supporting causes that other members are opposed to.
In our next BOT meeting we will revisit this topic. In our May Congregational Meeting, the proposed budget will be presented, and either approved, or modified per the will of the congregation. In the meantime, individuals may (and I hope they do).
I am not speaking for the Congregation, or for the Trustees, but I think it would be better if each member decides for himself or herself, based on their own life experiences and ethical sensibilities, which national and international charities to support. I would encourage people to support Ukraine in overcoming this tragedy (as Rose and I are doing) but not make it a requirement.
Here are some vetted organizations that are supporting the people of Ukraine:
Internews. Supports independent media and at-risk journalists in 100 countries, with regional hubs including in Kyiv. Donate here.
"Keep Ukraine's media going" is a GoFundMe campaign for journalists around Ukraine that also aims to help reporters relocate and continue their work from neighboring countries. Donations can be made here.
Kyiv Independent. The English-language news site has launched a GoFundMe campaign asking for support.
The 762 Project. Volunteers have been collecting, analyzing and posting information about Russia's troop buildup along Ukraine's border for much of the past year. Support the project here.
Project Hope. The global health and humanitarian relief organization is on the ground in and around Ukraine delivering medicines and medical supplies. It has teams in Ukraine, Poland, Moldova and Romania. Donate here.
Razom for Ukraine. Started in 2014 and devoted to building a stronger democracy in Ukraine, the nonprofit is now "focused on purchasing medical supplies for critical situations like blood loss and other tactical medicine items." Here's a list of supplies it has purchased already and an appeal for more support.
Convoy of Hope. The disaster relief group says it's partnering with a local Polish organization to provide meals to refugees entering Poland, as well as to deliver food, water and other basics across the region. Donate here.
Sunflower of Peace. The nonprofit's current mission involves providing medical and humanitarian aid to people impacted by violence in Ukraine. It's accepting donations through its Facebook page.
Voices of Children. The Ukraine-based charitable foundation has been offering psychological counseling, including art therapy, for children affected by war in the country's east since 2015, according to its site. The group is currently helping children and families across Ukraine, including helping with evacuations.
World Central Kitchen. Founded by world-renowned chef José Andrés after an earthquake devastated Haiti in 2010, the group provides meals to people in need around the globe. Andrés is now feeding Ukrainian refugees at the Polish border. Those wanting to help finance the group can do so here.
Doctors Without Borders. Staffers with the medical relief organization remain in Ukraine and are "seeking ways to respond to the medical and humanitarian needs as the conflict evolves." Offer support here.
This is what the UUA is doing:
UUSC's initial emergency response includes providing immediate funding to the Hungarian Helsinki Committee (HHC) and the FemFund, two groups already on the ground working on equitable recovery for displaced people." Read more on UUSC.org.