Mike Landrum and Linda Mangelsdorf were UUCRT delegates at the annual UUA General Assembly in Columbus, OH June 23-26.  Rev. Chris Antal and Terri Pahucki were there for a day.
We proudly carried our beautiful UUCRT banner in the opening parade on Wednesday evening. All banners were hung around the convention center, and ours was prominently displayed at the bottom of a very busy escalator!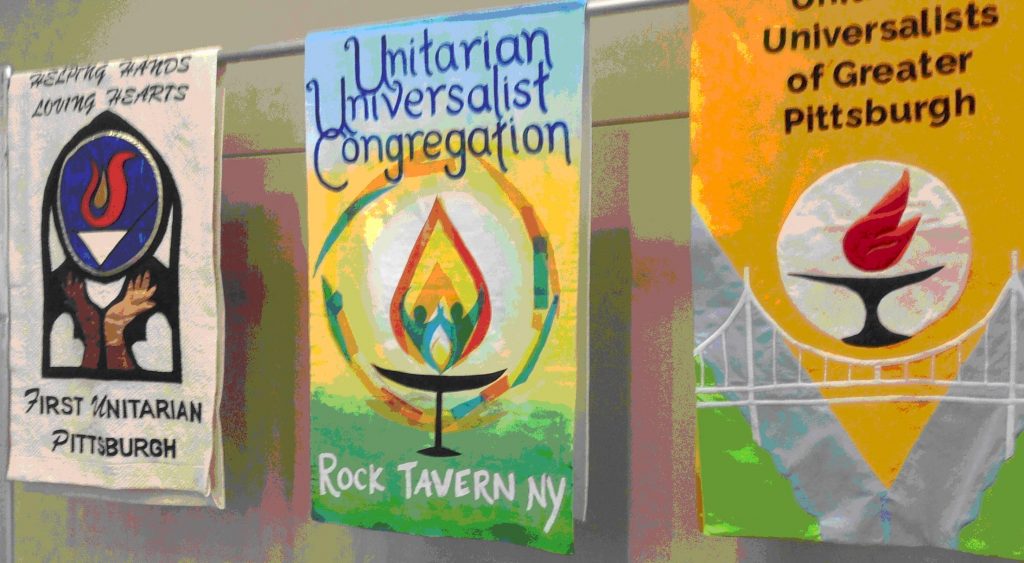 On Thursday, Rev. Chris was at the Peace Ministry booth talking with people about his Halt Drones Now initiative, while Linda and Mike circulated among delegates requesting signatures in support of an Action for Immediate Witness (the means by which proposals are brought before the assembly) on that subject.  Our petition was submitted at 5 pm on Friday with 200 signatures!  (Rules are VERY specific at GA-we needed at least 125!)
There were 11 potential AIWs, and only six were chosen by the Committee for Social Witness for presentation to the Assembly.  At 11 pm we learned that we made the cut!   At 8:30 Saturday morning, when voting reduced the six to three, despite an impassioned 2 minute speech by Mike, not enough of the +/- 1500 voters supported us, and, sadly, we did not prevail.
A small contingent of Westboro Baptists arrived on Friday to protest our UUA support of the LGBT community.  They were met by a dozen of the Orlando Angels and a swarm of UU's singing "I breathe in peace, I breathe out love".
There were many valuable workshops and talks and a whole lot of singing!
For those wanting more detailed info, my program guide will be left at the welcome table in our sanctuary.
Next year's GA will be in New Orleans, LA.  Let's begin now to plan for our participation there!
Linda Mangelsdorf
Delegate, UUA GA  2016