Veterans for Peace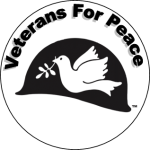 The Hudson Valley Chapter 177 of Veterans For Peace was formed at the UUCRT and meets at 9 Vance Road, Rock Tavern, in the sanctuary. Veterans can join as members and non-veterans can join as associate members. Newcomers are welcome however only chapter 177 members can vote at the Chapter meeting.
The next meeting will be April 22, 2018, from 12pm-1pm.  To join by phone conference:
Call your dial-in number: (605) 475-4786
Enter the access code: 762707
Local military veterans are actively recruiting additional members for a regional network of Veterans For Peace, Hudson Valley Chapter 177. The Hudson Valley chapter had its inaugural meeting Jan. 24 at the Unitarian Universalist Congregation at Rock Tavern,  Rev. Chris J. Antal initiated the first meeting, along with seven other area veterans. Rev. Antal is an Afghanistan veteran.
Veterans For Peace (VFP) is an international, not-for-profit organization made up of military veterans, military family members, and allies. It accepts veteran members from all branches of service and is dedicated to building a culture of peace, exposing the true costs of war, and healing the wounds of war. Networks include over 120 chapters across the United States and abroad.
Basic membership dues are $40 per year payable to the National Veterans for Peace. Discounts and free memberships are available for various categories of veterans and active duty personnel.
According to the VFP Statement of Purpose, the organization works:
To increase public awareness of the costs of war
To restrain our government from intervening, overtly and covertly, in the internal affairs of other nations
To end the arms race and to reduce and eventually eliminate nuclear weapons
To seek justice for veterans and victims of war
To abolish war as an instrument of national policy.
Veterans and others wishing to join or learn more about the Hudson Valley VFP chapter can contact Rev. Antal at antal@uuma.org. For information about VFP's purpose and mission, its website is www.veteransforpeace.org.